Archive for June, 2008
Wednesday, June 25th, 2008
One of the greatest things about Washington DC and sports are lobbyists.  I think I have paid to see two Nationals games in the past five years.  The Nationals are generally a lousy baseball team, but this town is literally the capital of professional networking and socializing.  So every business, firm, and lobbyist organization buys tickets to games for opportunities to take out clients or network.  However these organizations do not always need their tickets, so it is rather easy to find lobbyist tickets.
Yesterday, Rich GChatted me asking if I wanted to go the Nationals game.  I said sure and asked if I should try to get lobbyists tickets (we were planning to just do cheap seats).  He told me to go ahead, so I emailed the Finance Director at the DLCC.  Within a couple of hours he said he had four tickets for me.  They were on my desk when I got to work the next morning.
I knew the seats were going to be good from the seating chart, but it was a pleasant sight to have them be front row behind the dugout.  It was Brett, Rich, and myself (Lady Danica bailed 10 minutes befor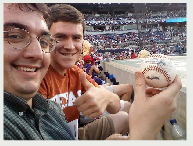 e we were to meet).  We went down to our seats and had a good time sort of just being in such great seats.
In the third inning with the bases loaded and one out, there was a short fly to right.  The runner on third tried to tag and score, but the right fielder through him out at the plate to end the inning (See the play here, Click "Dukes cuts down Anderson trying to score".  The catcher then ran to the dugout.  I was standing and he tossed me the ball.
In a later inning, Brett made eye contact with the bat boy as he was running back to the dugout.  The bat boy proceeded to toss him a ball.  Brett got it (after a small hand scuffle with the guy sitting to his right.  The ball was clearly Brett's).  So here we were, in the front row with now two baseballs during a Nationals game.
Brett and I started gently teasing Rich that now he had to get a ball.  Then, when the bat boy was running back to the dugout looking to the crowd some.  I half jokingly pointed to Rich with both hands, and the bat boy then threw Rich a ball.  So now we had three balls, in the front row.  (We also joked that is Danica would have come, she definitely would have gotten one..but no show, no ball).
There was a father with his young son two rows behind us, who seeing our success wanted to get a ball.  Then our goal became to get one for him.  However about 4 other young'ins came down and sat around us for the last two innings.  One of these got a ball in the eighth inning.  After the game, the boy a couple rows behind us was leaving, but we waved and got his attention and Brett tossed him his ball (WTG Br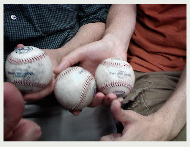 ett).  Then we were still in the front row, and a bat boy tossed Brett another ball after some pointing.
So tonight, on free lobbyist tickets, Brett, Rich and I got to see a good Nationals game and scored four baseballs, and Brett probably made a little kid's night.  All in all, this should teach us…Lobbyists are good people.