Today was a classic father-son day. My dad was in town, and we decided to make the trek up to Cooperstown. We drove there yesterday and went to the Baseball Hall of Fame today. I had been before, but I was about 11 or 12 and didn't really appreciate or know the history well enough. Today I donned my John Mabry jersey. By wearing Cardinals gear, it made it easy to strike up conversation with other fans of NL Central teams.
My Dad and I took our time seperately getting through the three floors of the museum. I was actually proud of myself, thinking I took longer than pop to go through the first two floors. It took me about three hours, and I was convinced my Dad would be in the main hall. I looked for him, called him, looked again, and he called back. It turned out he had just started the second floor, taking three hours himself on the first. I then went through the second floor with him, catching this classic sketch on the second trip (I had actually never watched it in full until today. It is quite funny if you have never taken the time to watch).
We left the museum; had lunch; and returned to see the plaques. My dad was excited because this year Herzog was inducted.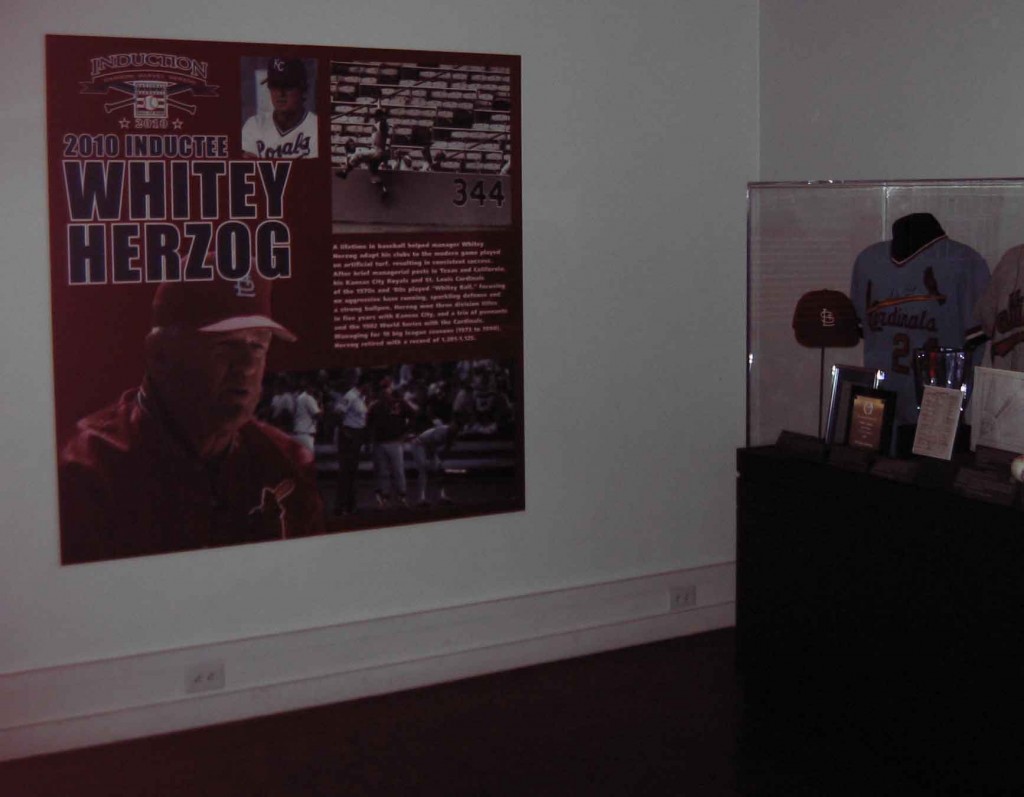 His plaque was on a wall by itself awaiting future inductees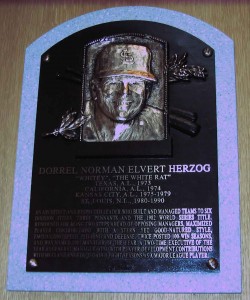 The White Rat however was a little before my time.  His World Series win was before I was born, and the first Cardinal manager I remember was Joe Torre.  It was however neat to see the first Hall of Famer I really rooted for: The Wizard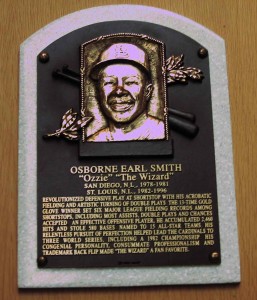 But no one can match up to The Man. Looking at the stats in the museum really make you understand how underappreciated Stan Musial is. Three MVPs; top ten in: hits, doubles, RBIs, runs; top 20 in: singles, slugging, triples, leading to a career .331 average in almost 11,000 at bats.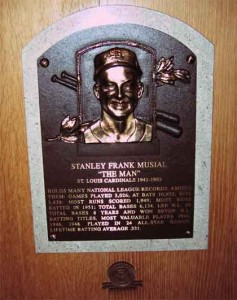 I also got to reminisce about the 2006 World Series. I saw Carp pitch Game 3 in person, and they had his Jersey from the game.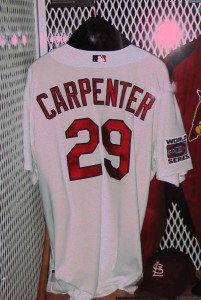 And if you talked to me about baseball from 2006 – 2007, I likely obnoxiously rose my ring finger and said: RING! And I got to see said RING!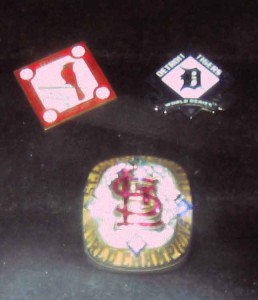 After the Hall, my Dad and I toured the memorabilia shops. I was surprised to see how excited my Dad got over Brooklyn Dodgers stuff, and he ended up being the one buying baseball cards. In the shops, we were able to follow the Cards games via sports tickers.
St. Louis completed a three game sweep of the Reds to take over first place today. The series involved two grand slams and a brawl where our backup catcher got spiked in the head by the Reds' starting pitcher. However probably the greatest fact of the series is that it was the first time since Tony LaRussa started managing the Cardinals that he used the same lineup for three straight days. He has managed the Cardinals since 1996!
You gotta love baseball.