Eleven years ago Thursday, my dad made me a bet. If SLU beat Cincinnati in the second round of the C-USA Tournament, we would drive to Memphis the next day to watch them play in the semi-finals. While listening in study hall freshman year of high school, Kenyon Martin broke his leg…and the month of March for Steve changed forever.
I have not missed a conference tournament since SLU won in the Miracle in Memphis. My journeys to conference tournaments have been somewhat humorous. So as I avoid work before seminar: a run down.
2000: Miracle in Memphis. SLU's last tournament bid led by Justin Love. Think this picture is from then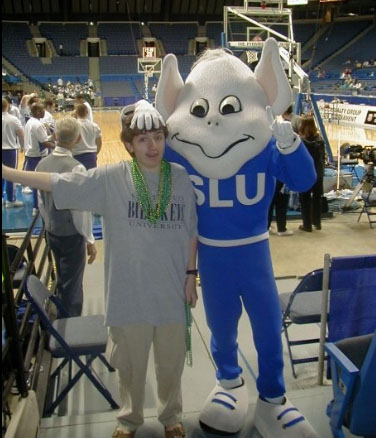 2001: Second round SLU loss. Steve lugs desktop computer to Louisville to update Billikens.com The Rogers finally learn the art of buying conference tickets on the street.
2002: Drove to Cincy in the day with Mom. Marque Perry shoots a 3 half a second too late, drive home the next morning.
2003: Perry's senior year. After willing SLU to 8 wins in a row, a layup wouldn't fall and SLU loses in the second round.
2004: Steve's first academic conflict with conference tournaments. A political theory professor said absolutely no rescheduling of the midterm. Steve then went into her office. Said he was going to be completely honest and "Can I reschedule my midterm so I can go to a basketball game?" She laughed and replied the only reason she would let it happen is because I didn't even try to make something up. Old man Taj79 (Billikens.com poster) drives Steve from DC to Cincy. SLU makes the Semi-Finals. Basketball hall of famer Oscar Robertson gets mad at Steve in semis for waving his signs as his Bearcats beats SLU.
2005: Steve's first A-10 Tournament. Drove to Cincy with Dad to watch the Colonials win the A-10 Tournament. SLU had already lost in Memphis. The next week, I drove to Nashville and back in the same day for the only time I have ever seen my team in person in the Dance.
2006: SLU and GW now BOTH in the A-10. GW had gone 16-0 in the conference season. SLU had the 4 seed. Steve was sick, but slept in the back seat of a college friend's car and drove from DC to Cincy. GW lost. Steve changed shirts. SLU lost. Steve goes home with aunt and uncle to St. Louis next day. That sucked.
2007: First A-10 Tournament in Atlantic City. Steve drives up with old man Taj79. SLU wins and a great night at the bar is had. Next day, SLU beats UMass in overtime. Steve changes shirts. GW beats St. Joes setting up a GW v. SLU Semi-Finals. It is the only game ever where I rooted against GW…and GW won. They then won the next night getting their third straight tourney bid. Favorite conference tournament ever.
2008: Steve was traveling for grad school visits. His preseason favorite school scheduled their visit during the A-10 tournament. Steve asked if he could come out a day early to bump up the visit. They agreed. After the visit, Steve red-eyed from the west coast to Philly. Aunt and uncle picked him up from Philly airport. Drove to AC. SLU lost in the first round. Steve bussed to DC the next morning. (GW didn't make the tournament). Steve however learned his aunt is very good at slot machines.
2009: Things are finally easy because Steve lives in the same state as the tournament. SLU loses to Xavier in the second round after an OT win in the first round.
2010: Another academic conflict. Conversation went like this:
Adviser: Steve, could you present such and such next week in class?
Steve: Uh, I may not be here next week.
Adviser: ….Who are the Billikens playing?
Steve: Well, that depends on what happens Tuesday.
Adviser laughs
SLU then lost in the first round. Aunt however still good at slot machines.
2011: What prompted this post. Same adviser asked if Steve could do something Friday…Steve replied, lets relive what happened last year….
So if SLU beats Rhode Island tomorrow. The streak continues. If not, I need GW to make the semis.
Lets go Billikens.