Today was the last major step in a summer long process for updating Billikens.com.  Every few years I do a redesign, so this summer before the "lost" third year of a PhD program I did a redesign.  Updating Billikens.com each time forces me to learn a little more tech.  This update is probably my best coded design (it has the fewest Steve tweaks of bad code to make things look right..but yeah…there are still a few tweaks).
This is what the site looks like now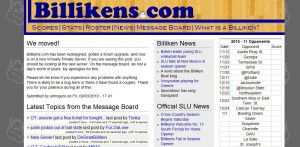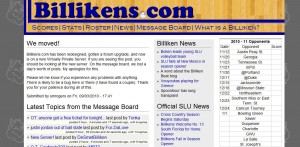 I actually cannot get a screen shot of what the site looked like for the last three years (Wayback Machine doesn't render it right…probably because of my tweaks).  I also cannot find the first version of Billikens.com.  But here is the progression between then (forgive the spacing).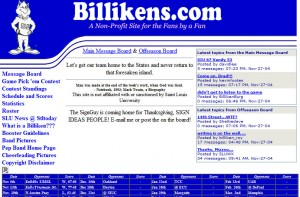 My favorite design is probably this last one, but the current design is much easier to update and offers automatically updating content (e.g. imports RSS feeds).  Over the years, we have also been through three message board software packages: Talkshop, DCForum, and InvisionPowerBoard.  For the first message board, I had to manually register each user.  With the latest upgrade, people can register and post from their iPhone using a "mobile" theme.
I have been through a number of web hosts over the years…
Members.aol.com/SluSignGuy ~ Who didn't have an AOL or Geocities page at some point!
Armnet: Billikens.com is board with a whopping 20mb for $20 a month
Interland: More web space, but got hacked multiple times
Dreamhost: Super cheap, but would crash on occasion
GoDaddy: Still cheap (but lessso), very few problems
This past season, the message board became more popular.  GoDaddy puts a limit of 200 on how many concurrent connections you can have to the MySQL server.  This got exceeded pretty much every game from February on.  With the Rick Majerus era, the site gets more traffic.  It still has the old boys club, but there is some fresh blood.  To put it in perspective.  In August 2010, Billikens.com got as much traffic as it did in November 2008 (meaning a month before school starts got as much traffic as the first month of a season).
With these increases, Billikens.com (and its baby brother SteveRogers.info) have moved to Virtual Private Server.  This again pushed my tech knowledge a 'bit, but the fine folks at ServInt helped me out.  If this server can't handle the traffic…well…I will be in a pickle.
So we have a new web design, upgraded forum software, and a powerful new server.  Now for that tournament bid…Heck, I was with Armnet the last time that happened.