Thank goodness I went to grad school, giving me a third college basketball team.  Tuesday, SLU lost to Rhode Island.  GW lost to St. Joseph's in overtime, but Princeton beat Penn to give me a rare Ivy League playoff between Princeton v. Harvard at Yale!
Some highlights
Before the game watching somewhat drunk Harvard students stuggle to find Frank Pepe's (we got off the train together, they showed up 10 minutes after I did).
Within minutes of reaching the student section, Princeton students yelled "YALE"…Harvard students chimed in "SUCKS" showing Ivy Comradery
Encountered first other SignGuy that used Nobel Prizes, Presidents, and Professors publishing records as sign material (sorry for photo quality)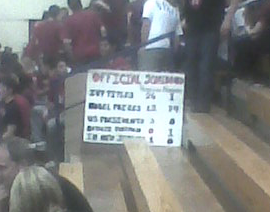 While you may think Ivy Leaguers are smart, they can be a 'bit slow (e.g. stop chanting airball at a player after he hit a clutch game tieing 3)
Princeton wins on a play with less than 2.8 seconds left.  A buzzer beater sends them to the dance.  See ESPN video here






You can briefly see me at the 13 – 15 second marks on the left.
A rushing of the court occurred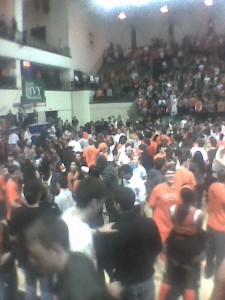 And the nets were cut down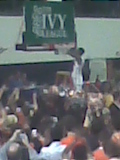 Final Highlight: Discovering a White Castle on trek back through NYC
My first SLU tournament was in 2000.  They won.  My first GW tournament was 2005.  They won.  My first Princeton conference playoff was 2011.  They won.
Conference week is by far my favorite week in sports.