As regular readers know, there is a very important tradition in my family.  The Taboo Championship Cup.  The Cup has sat proudly in my office for the last year, and with Thanksgiving, it was time for the men's team to defend their title.   However for the first time in the history of the cup…we changed the game.  We made the jump from Taboo © 1989 to Taboo © 2009.   In making this twenty year leap, words such as "VCR" have been replaced by references to "Twilight," but the heart of the game is the same.  Grandchildren still perform the necessary Yoga pose to score a point and (somehow) consider the opposite of a pancake to be a waffle.
Even with this change, the men reclaimed their title, winning 54-49.  Josh (the Yoga poser of this year) proudly holds the cup.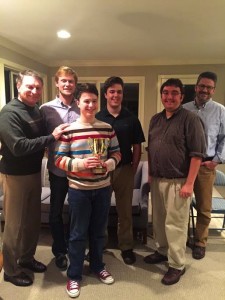 and the women again served with dignity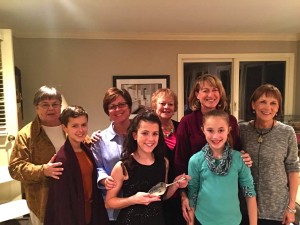 However, as a family, we all shook hands after the match and came together for a victory tunnel to celebrate our time honored tradition.